I'm not so keen on all the A/W trends this year. Little fluffy bag chains and marabou everywhere, just leave it in the '90s! The '70s trend however is much more exciting!
1970's. What do you immediately think of?
This guy and this font!
TWIGGY-ERMAGERD
The key '70s trends were bell bottoms (flares), fur gilets and coats, bright prints, crochet, waistcoats, hot pants, florals, knee-high boots, peasant dresses and massive bell sleeves.
Looking at the high-street stores, I thought some had very loose definitions of " '70s style." For instance, some shops had just stuck paisley print on everything and hoped for the best!
This white faux fur coat from Topshop is the ultimate in glam. At €125 it's quite expensive but faux fur coats are so warm and cosy, an investment piece for winter.
Another great piece from Topshop are these tailored flares. Ideal with platforms and a floral blouse if you want to maximise the '70s look.
Warehouse meanwhile focused on funky prints such as this tapestry blouse. I would wear this with dark denim jeans.
I don't normally shop in Warehouse as it's quite expensive and I think their clothing is a bit muted for my tastes but I love the new collection, especially this paisley babydoll dress.
River Island have taken a big gamble with roll neck tops. Although this top is gorgeous, I don't know if roll necks/polo necks will ever be cool…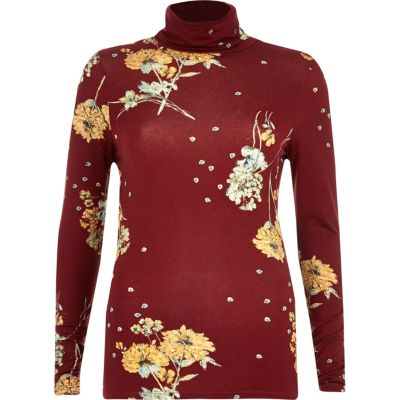 Boohoo.com have an amazing flared denim jumpsuit which I believe could transform anyone into a Charlie's Angel.
The shoe of the '70s was of course the platform. The bigger and chunkier the heel the better! I had to include the grooviest shoe EVER from American store Charlotte Russe. (This is a shop I've been in a few times in the USA, quite cheap over there and worth a look if you are visiting).
If you're more of a disco/Abba lover, then you have to see these River Island metallic platforms. Yes they are insane and yes I love them!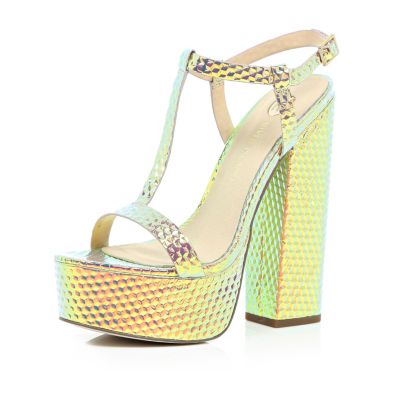 Hope you've all enjoyed this '70s post. If you want more '70s, these are some great blogs dedicated to '70s style : Superseventies Tumblr, Sweet Jane and for a laugh Plaid Stallions. 
Don't forget to enter my giveaway to win a €50 voucher for Athlone Towncentre through Facebook page. I've extended the deadline to next Sunday October 4th so get entering! Also be sure to visit my friend Kathryn's new blog Violin Kit, if you like vintage you'll love this blog! Thanks for reading as always.
Edel