I would never have expected to being writing a post on that humble woven-sole shoe, the espadrille. Once the "basic bitch" of the shoe world, now officially bigger than Kylie Jenner's fake lips. 😛
Chanel have been championing this shoe for a long time and somehow manage to make them look luxurious. I particularly like their classic patent finishes. I think these make espadrilles a lot more trendy and "current."
They also have raffia and denim style finishes but I prefer the more "glam" finish.
I also really like these mesh espadrilles.
Sam Edelman has even designed a range of espadrilles for Urban Outfitters and they are the most gorgeous things I've ever seen.
These pale pink and mesh espadrille are retailing at $45 on the US site but sadly don't seem to available in Ireland!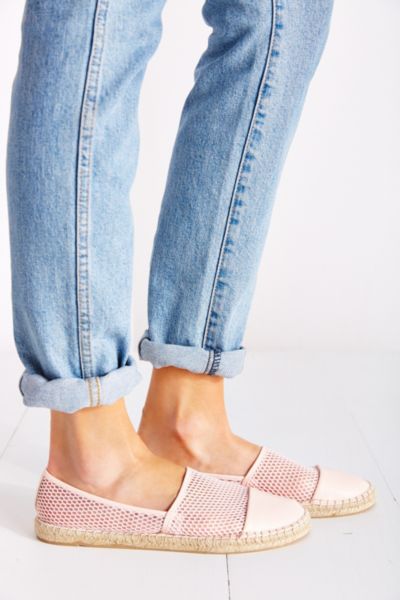 I also like these "unconventional" leopard print espadrilles.
Asos have lovely Chanel dupe espradilles for only €19…I may have to buy them…
Asos also sell Soludos espadrilles, these denim ones are embellished with a tiny ice-cream cone design..perfection!
These pink espadrilles with holographic toe-caps are amazing. Again these are just over €19, I love Asos's own range shoes.
For something really unique and different Etsy always delivers. Siamese Dream Design is a shop with amazing woven espadrilles in outrageous colours.
These crochet Stradivarius espadrilles in cream and powder blue are really feminine and pretty. They would look great with pale blue or white jeans and a pastel t-shirt. (Tanned feet optional 😉 )
Even though espadrilles are in fashion, please remember it's never OK to wear Toms….their ethics are dubious to say the least and lets face it they're one fugly shoe. 😛
Something to bear in mind when buying espadrilles is that the sole is generally heavier than upper and doesn't bend with the foot's movements. So they are not suitable for long walks and not an orthopaedic-friendly shoe!
Save them for the beach and casual occasions. And don't expect them to last forever, this is strictly a summer shoe not conducive to our rain-sodden climate. 😛
I went for these cute white mesh ones from Penneys, they were perfect for chilling out at home and for holidays also.
Thanks for reading and leave me a comment below if you like espadrilles.
To check out my social media channels, check out my Instagram, Twitter, and Facebook page here.
Edel