A while back I predicted flares were coming back after Lykke Li wore them to her Vicar St. gig late last year. Guess what ? Flares are indeed creeping back in after being consigned to a special place in sartorial hell for many years. Ah flares, I wore them my entire childhood/adolescence and they may have slightly bolstered my self-esteem at the time but looking back I can't see why!  Having B*witched for style icons didn't help either.
Flares in the early 00's required a heel of some kind (or a god forbid a chunky runner circa 2005), required frequent washing due to them dragging on the ground and  always ended up extremely frayed. I had denim ones, cord ones combat ones, velvet purple ones, embroidered flares, coloured flares, the skinny flare, the flare so wide it forced others off the path……
With the advent of skinny jeans, flares were promptly discarded and forgotten about. Until now. The 2015 reincarnation is here and you may just like it 😉
Forget faded denim, the gothic velvet flare is much more sophisticated. They are gorgeous in dark colours and accessorised with graphic t-shirts and lots of attitude! They are an alternative for people who want to try flares but don't want to look like a hippy. If you want to wear these, remember they are fitted in the waist and velvet isn't a forgiving fabric so pick your size carefully.
I usually try to feature affordable and easily available products but I haven't seen flares in any shops here yet. However I discovered this US site Colors of Aurora which is worth a look.
Flared jumpsuits are equally ok and very flattering.
And if you really want to go there and wear denim flares, pick a dark wash or a distressed style. Very pale washes coloured or embellished denim will look like you stepped out of a 00's time capsule.
Here's one of my favourite bloggers The Native Fox wearing dark denim flares.
Free People also have some gorgeous flares and flare jumpsuits..all expensive but great inspo!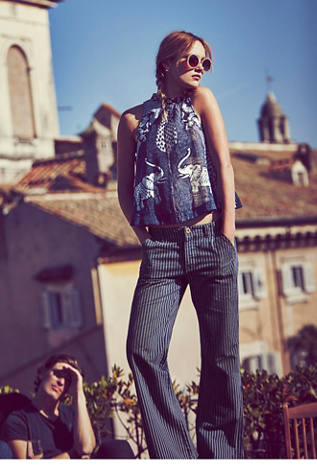 Here's the best thing about flares, they suit almost every body shape. Tall, short, curvaceous, thin, they flatter all shapes and sizes. If you've ever read the book The Sisterhood of the Travelling Pants, I'm willing to bet those pants were flares. This is why I wore them for so long during the awkward teenage years! I was insecure about my body and wearing flares helped me feel better. One important note though, if you are more on the petite side, make sure you get your flares taken up or wear heels. Flares skimming the floor is grand, flares wiping the floor not so great. You don't want to look as though you are drowning in fabric! Also avoid long cardigans or baggy tops with flares, a fitted top or slightly loose t-shirt works best.
Let me know your thoughts on flares- a welcome back or hell no?
Thanks for visiting my blog as always. As always you can find my blog on Facebook here. Next up for me is a trip to Belgium in March! I look forward to writing about this soon.
Edel