The sale season is upon us and it tends to turn the most sensible people into crazed banshees hunting for a bargain.
Stores are crowded, there are long queues for the fitting rooms and till and shops descend into chaos.
It's incredibly tempting to buy reduced items but how can you be sure you are buying something of value? Having previously worked more sales than I care to remember I'm well qualified to advise.
Firstly try not to buy seasonal summer or winter clothing in the first few months of a season. It will inevitably be reduced in sale.
The big summer and winter sales serve a purpose, to help the retailers clear seasonal stock (and make them a ton of money).
This is especially important with summer clothing, after all in Ireland you only need a limited amount of bikinis/shorts/sun hats.
It's very satisfying to get your summer clothing at bargain prices mid-season. It's a matter of patience and playing the waiting game.
Watch out for markdowns ahead of the sale
Shops generally have to do a markdown the day before sale and it's a mammoth effort.
To prepare in advance, some stores will mark the price tag with a pencil denoting the markdown price. It may look something like 0024. (€24). If you see this, it's likely to be on sale.
Consider stock at full price and be aware of staggered reductions
Look out for any limited edition collections or outrageous colours or styles. These are often reduced in sale if they are not selling enough units at full price.
Conversely, items that are selling extremely well or basics are unlikely to be reduced.
Some retailers slash prices to half-price almost immediately to sell the stock faster while others will stagger reductions, going down 20%, then 50%, then 70% towards the end of the sale.
Try and go to the shops early in the first few days of sales.
After a few days of sale, the best items are gone and anything left will have been manhandled!
If you have difficulty dealing with crowds, mobility issues or have young children, mornings are a good time to scope out the sales without being trampled.
Weekends and evenings are peak times so beware.
Look out for signs of damage or wear on items before you buy.
Sometimes you can get an extra discount if something is damaged but think carefully.
You will more than likely not be able to return this if you knowingly buy a damaged product.
So if it's something you can fix like a missing button then go ahead. Any major defects do not purchase. Hold onto receipts in case you change your mind.
Be sure you know the return policy before buying a sale item
Many stores offer both refunds and exchange on sale but some will only offer an exchange. If you aren't sure, ask.
I tried to return a choker to Forever 21 only to find out they didn't accept returns on jewellery.
Also with some items such as jewellery and small accessories, the retailer may ask you to keep the item in its original packaging as well as keeping the receipt.
When trying on items, take your time.
Ask yourself if you can wear this garment with at least three other things in your wardrobe at home. If the answer is no, then you know what to do. Put it back!
During sales your size may not be available, trying on another size may seem like a good idea rather than missing out.
But if something doesn't fit correctly it will never ever look good, it's a waste of money and it will sit in your wardrobe taunting you forever.
Your feet will not grow or shrink and likewise, your body shape is unlikely to alter extremely!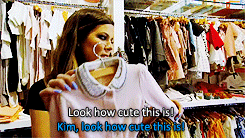 When trying on a jacket, always button it up if it has buttons and check it doesn't gape or sag. When trying a dress or skirt, walk around, sit or squat down.
This will give you an idea of how much movement the garment allows and whether you feel comfortable with the length sitting down. View yourself from different angles or ask a friend's opinion.
Fitting rooms are manic during sales periods and some shops may even close them for the first day of sale, depending on how busy it is. So, always keep your receipt if you can't try the item on.
When trying shoes be careful as sizes may have been mismatched during sale. Be sure to get the correct size and try to walk around in them even if the store is packed.
Think about your personal style and don't buy something that you know isn't "you". Buy items you would happily buy at full price.
Look for good quality materials and staple items
High heels, smart dresses, workwear and handbags are items to look out for. Keep your eyes peeled for leather jackets, bags and shoes.
Leather is very durable and will last a long time. One of my best sale bargains was finding leather brogues reduced from €70 to only €18.
If you are buying for a special occasion, sales are a great opportunity. It's easy to pick up a formal outfit for less rather than blowing a lot of money for one day.
Post-Christmas is a great time to buy a new coat at discount so try and hang on to your old reliable till then.
Check the labels for washing and ironing instructions.
You may see a lovely cheap dress but if it is dry clean or handwash only, ask yourself if you are prepared for the cost/effort of maintenance.
Remember most stores will be displaying full price items after a few days or in one part of the store. So be aware of this area if you came to specifically shop for bargains!
Treat the staff with respect and dignity
It may be hard to locate a member of staff during sales but remain courteous and they will help you with your needs.
Also, most stores tend to hire new or temporary staff at Christmas so if a staff member appears clueless they may be new. There is usually a manager on hand to help with any problems/queries.
Working during a sale can be very stressful and retail staff are juggling several demanding tasks at once. Most of them are on minimum wage also so try to have some empathy and patience when dealing with stressed-out staff and they will extend the same to you.
Best places to shop the sales
Now here are my picks of what's on sale at the moment and the best stores to pick up a bargain. (Note this is an updated old post so these items will no longer be available).
Zara are fantastic for sale accessories such as this vintage-style belt now €16.99. This would be fantastic with jeans and a check shirt for a vintage vibe.
I also adore this clutch bag that I've had my eye on for a while! In black and white and now €9.99!
If you are looking for cute phone/tablet cases, Zara has these by the bucket load!
For jumpers try Forever 21, I love this cable knit now €15.99.
Stradivarius always has amazing handbags in sale, in particular, this rucksack. Cool, practical and now €15.99!
Their footwear sale is usually worth checking out too, these metallic ankle boots are amazing. (€49.99)
Topshop is a good place to shop the sales, especially to get unusual pieces at reduced prices. Larger Topshop stores usually have concession rails and this is a great place to get a dress/playsuit on sale. Their denim range is also worth a browse.
Leave me a comment and let me know your thoughts on sale shopping – do you love it or hate it?
Thanks for visiting my blog and don't forget to follow me on Instagram, Twitter and Facebook here.
Edel